Home | List URL | Directory Submissions | Visitor's Comments | Web Page Design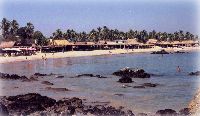 Guide to Nearby Places

Cuastecomate, La Manzanilla, Boca de Iguanas and Tenacatita are some of the smaller towns and beaches along a stretch of Hwy 200 within an hours drive of Melaque and Barra de Navidad. Some of the finest beaches in the region are found here. Recently completed access roads have opened these places to more visitors. Still far from being commercialized it's best to visit now if you enjoy quiet isolation. While not abundant, lodging is available in some of these villages.

Cuastecomate has a small horseshoe shaped bay surrounded by hills that come right to the waters edge. The beach is short and lined with palapa (palm thatch) roofed restaurants. Because it's well protected from swells it's a nice beach for swimming.

La Manzanilla is the largest of the pueblos between Melaque and Chamela. It has a gently sloping beach that is ideal for swimming. Long a refuge for the adventurous, it is experiencing rapid growth since being 'discovered' by high-incomed foreigners who are buying up available land and building homes. A lagoon behind the town is home to a caiman (tropical American alligator species) population and boats can be hired to get a close-up view.

On the other end of the bay lies Boca de Iguanas. If peace and quiet are what you're looking for, it's here you'll find it. 2 miles off Hwy 200 via a newly paved road this small village offers little in the way of amenities but makes up for it with incredible beauty. 2 trailer parks along the beach, a small hotel with restaurant, and a guest house on the cliff above the beach are about all that you'll find here. The swells are a little stronger here and the currents can be a little dangerous to inexperienced ocean swimmers.

Tenacatita is a little farther off the beaten path but a nice new road makes it easy to reach. About 20 miles west of Melaque you'll find the turn off to the beach. Another 6 miles and you'll arrive at this small village on a magnificent beach ideal for bathing. The most popular spot for snorkeling in the area is an easy swim from the beach. The ubiquitous palapa restaurants offering all varieties of seafood line the shore. Uncrowded most of the time, the weekend sees an increase of visitors from other parts of Mexico.
Coconuts by the Sea ...Boca de Iguanas, Tel:(3)338-6315, e-mail: cocos@bay.net.mx, pool, view, TV, AC, kitchen

Casa Maguey

...La Manzanilla, Tel/Fax:(3) 351-5012, e-mail:casamaguey@hotbot.com, 2 apartments and 1 house, view, kitchens, yard

Villa Montana

...La Manzanilla, Tel: 206-932-7012(U.S.), e-mail:outlandadventures@foxinternet.net, view